Horseplay, Anastasia Burke featured artist, AODC Gallery May 4-29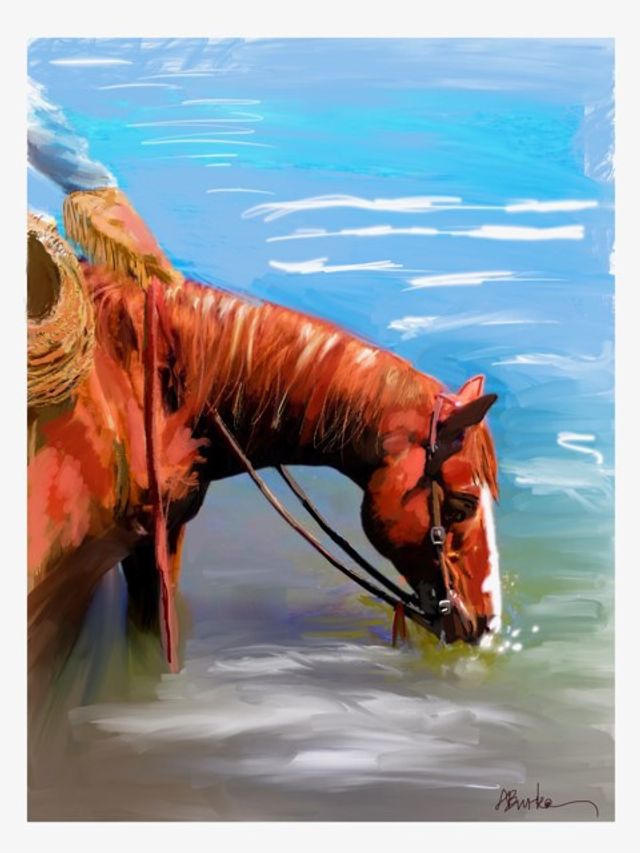 Description
Horseplay
Anastasia Burke
May 4 – May 29
Artists Reception, Sunday May 7th, 1:00 – 3:00 p.m.
Preparing for her upcoming show, "Horseplay," to be held at Georgetown's Art On the Divide Gallery during May, artist Anastasia Burke, who is legally blind, recently provided a glimpse of her background and the paintings she will showcase as AODC's featured artist.
A local artist, Anastasia welcomes us to the ranch in Pilot Hill that she shares with her husband, five horses, and a Scottish Rough Collie named Hudson. The former bedroom Burke now calls her studio is a testimony to organized chaos. There are glass containers overloaded with bouquets of paint brushes. Baskets explode with vibrant tubes of paint. The walls are covered with work from artists she admires, as well as quick studies from her own hand. In the center of all this stands the easel. Today, it showcases the rough beginnings of three horses, their heads bowed together in subtle grace. And for Burke, that's where it begins and ends.
"I got busted in school all the time for doodling horses in my notebook when I should've been solving algebra equations," Burke laughs. "Decades later, not much has changed."
That is unless you consider her eyesight. In the mid-nineties, she suffered total vision loss within a span of about three minutes. The ensuing 18 months were marked by such intense rage and despair, she wasn't always sure she'd get through it. Eventually, however, faith transformed Burke's anger into insight, and grief into gratitude.
Among the many advances in ophthalmic medicine over the last 15 years is a cancer drug that Burke now has injected directly into her right eye every four weeks. She remains classified as legally blind, but the injections prevent further damage. Then two years ago, her son, a professional artist, introduced her to some assistive technology specific to the art world. Burke then purchased a cache of magnifiers, several with up to 30 times the normal strength. And suddenly, after decades of being unable to sketch, Anastasia was once again putting images of her beloved horses onto canvas.
In the two years since she once again picked up a paintbrush, Anastasia has painted 14 commissioned pieces and her featured show at Art On the Divide Gallery will be her 2nd one-person show.
Please join us as we welcome Anastasia Burke and "Horseplay" during the month of May. Meet the artist on Sunday, May 7th from 1-3 and enjoy refreshments and drinks.
Art On the Divide Gallery is located at 6295 Main Street, Georgetown, Ca. www.artonthedivide.com. 530-333-3727. Hours are Thursday thru Monday 11-4.
Art on the Divide Cooperative Gallery
6295 Main Street, Georgetown, CA 95634
11:01 AM PDT
to 4:00 PM PDT
Private:No
RSVP Required:No
Accept Registration Online:No
Originally posted by Art on the Divide Cooperative Gallery via Locable

Art on the Divide Cooperative Gallery
6295 Main Street
Georgetown, CA 95634
(530) 333-2787
www.artonthedivide.com